1) 3D Digital Media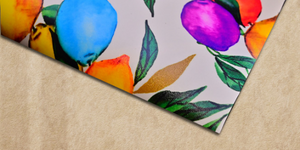 A popular paper type has 6+ years durability. Our basic paper is a vinyl paper, untearable and stronger gram for gram than standard papers.
With a softly-textured feel our 3D Digital media paper boasts:
Sharp print definition with a matte finish
Water resistant to repel water from their surfaces
Excellent colour vibrancy
Easy installation and DIY friendly
Wipe-clean surface
Durable and tear resistant
Non-toxic inks and toners
Environmentally friendly and sustainably sourced
Breathable material helps prevent moisture locking
2) 3D Woven Shield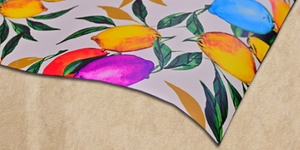 This is our heavy paper backed vinyl offering excellent 10+ years durability, textured feel. A great choice for areas prone to spills, scuffs and scratches such as kitchens, playrooms and commercial spaces.
Our heavy paper offers:
Soft print definition with a matte finish
Medium colour vibrancy
Overlap and double cut installation method makes for clean
Extremely durable
Non-toxic inks and toners
Waterproof easy to clean permanent markers, pencil or pens
3) Canvas Paper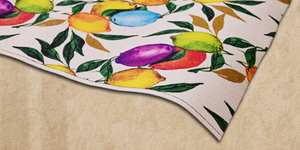 Our heavy cloth paper is a paper-backed vinyl offering excellent durability and an embossed, canvas textured feel. A great choice for areas prone to spills, scuffs and scratches such as kitchens, playrooms and commercial spaces.
Our canvas paper offers:
Waterproof soft print definition with a matte finish
Medium colour vibrancy
Overlap and double cut installation method makes for cleaner, tighter seams
Thick Cloth textured paper makes it wipe clean, strong against greasy spills and prevents stains
Extremely durable
Non-toxic inks and toners
Embossed, canvas-like texture cleverly disguises knocks and scratches
Wide format strips provided in equal widths
Description
Standard Roll size: 57 sqft full roll
Width - 22 inch
length- 33 feet
Average utilization of each roll is 50 sqft
Waterproof
No peel offs
PVC + Fabric paper

Wallpaper Roll size: 57 square feet roll (width – 22 inch & length – 33 feet).
Easy to clean any marks like permanent marker, dirty hands, color, pencil, any strong marks can be removed easily.
Long Life: our wallpapers are made of waterproof & durable + PVC material making them the most durable & tear-resistant.
They last for a long period of time for about 7 - 10+ years.
Super handy: these wallpapers aren't afraid of humidity & do not burn out in the sun. they also have an air-permeable coating.
Elegant: they hide all the insignificant shortcomings of the walls properly & they also come in a wide range of choices.
Safe: they have an air-permeable coating along with long service life.
These wallpapers are affordable, eco-friendly, & beautiful, making them the best choice for your home.
Easy to install: the size of the wallpaper makes it really easy for fast installation. You can glue them by yourself onto the wall.
Suitable for bathrooms and kitchens
Our paper is water resistant, so it's fine with steam and humidity. We would just recommend keeping away from direct contact with running water.
If you wish, you can apply a decorators varnish after installation to add an extra layer of protection.
We use non-toxic inks, and toner that is water based and 100% environmentally friendly.
Almost all of our materials and packaging are sustainably sourced and eco-friendly. And we're always looking for ways to keep improving our products and processes – for the good of the environment and our planet.
Not Recommended for Damp Walls
Suitable For Home, Office, Cafe, Hospital and any wall.
Shipping
Your wallpaper will be delivered to you in 3-6 working days.
Shipping is applicable as per the weight and Location. Free Shipping PAN India is provided on orders above Rs. 4999/-.
We Deliver and Install all across pan India.
Our Delivery Partners: Delivery, DTDC and Bluedart
Order Processing time: We will make every effort to deliver orders and services in good time. Usually the parcel gets dispatched in 1 day and we deliver it within 3-5 working days.
Wallpapers: We print and ship ordered wallpapers within 3 - 6 working days (excluding weekends and holidays)

MEASUREMENTS:
Measuring your wall is easier than you think. To determine the price, all we need is the wall's width and height at its longest and broadest points We may enter these dimensions in the product calculator, which is available on every product page on the Internet.
Can't take measurements? Don't worry, we're always here to help Schedule a visit .
Note: The measurement person will charge you 500 rupees. For a visit and the same amount will be modified once you place the order with us.

INSTALLATION:
Do you Need Installation? MIT is here for you. Book your installation here, now.
We arrange installation within 24 to 48 hours.
Note: Depending on where you are, outer cities may take longer.

RETURN AND EXCHANGE:
Every single piece of paper or item for home décor is put through a thorough quality check by our skilled manufacturing staff, and nothing is ever allowed to leave our headquarters until we are absolutely certain that it is ideal for you.
If your order is damaged when it arrives, we will send you a replacement within 4-5 business days at no additional cost.
Note: While receiving the parcel you need to take photos and videos at the time of unboxing of the product incase of any damage send us the video and photos on info@myindianthings.com and will help you with the resolution within 24 to 48 hours after verifying the details sent.

Exchange: If you are not satisfied with any product design or colour you can always get it exchanged at your own cost within 15 days after delivery.

If the paper quality or design of custom wallpaper does not match the demo, the goods will be available for exchange.

Note: Unless and until the goods is delivered damaged or the incorrect product is received, returns will not be accepted.

Customized wallpaper: You cannot exchange the design as we create design as per your specifications and wall size. Rest all other products can be exchange incase of not liking the product or design.

We address these on a case-by-case basis but will try our best to work towards a satisfactory solution.
For more you can notify us at +91 7011581500 or Info@myindianthings.com. We will respond to you within 24-48 hours.
Payment & Security
Your payment information is processed securely. We do not store credit card details nor have access to your credit card information.
How To Measure
Not sure on how to measure your walls? Our measuing guide has got you covered on how to measure standard walls, sloped walls, and walls with doors and windows.
MEASURING GUIDE
How To Order
Ordering a wallpaper has never been easier. Simply enter the measurements of your wall, resize / adjust your print preview and add to cart. We take care of the rest.
ORDERING GUIDE
How To Install
Browse our detailed installation guides on how to install wallpapers. Your order will also contain a complete instrutions book as well as all the necessary tools required.
INSTALLATION GUIDE
Why Choose, My Indian Things?
Since 2020, My Indian Things has been the trend setter in transforming Indian households and offices by delivering sustainable and cost effective bespoke solutions specially tailored to meet the emerging demands of the Indian market.
PERSONALIZATION
VIRTUAL DEMO
MATERIAL CHOICES
FREE ASSISTANCE